Advantage of Ordering Private Label vs. White Label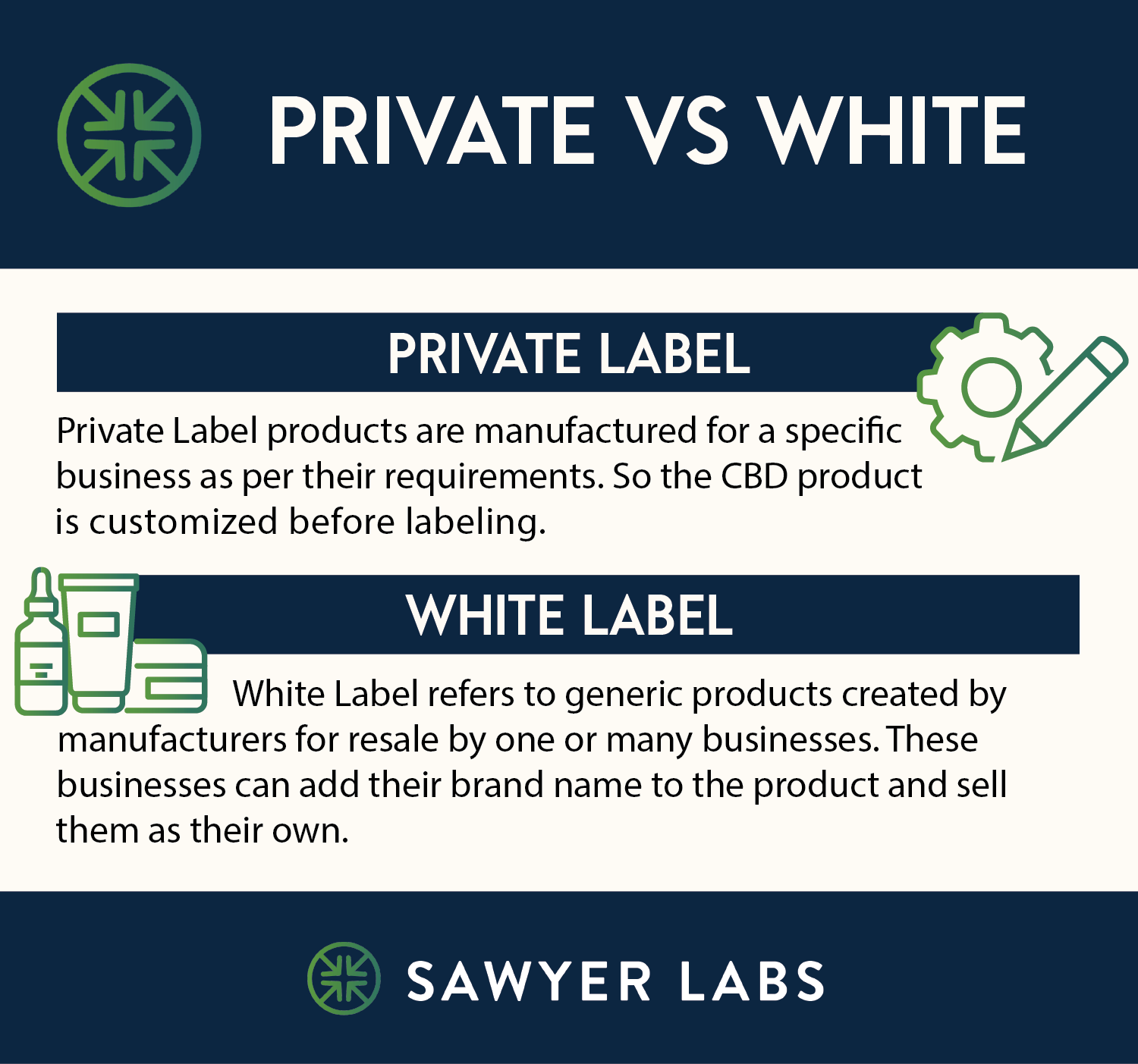 Sawyer Labs' CBD products are the best on the market. Your business can order a specialized formula that will help meet the needs and demands of your consumers. All of Sawyer Labs products come with a Certificate of Analysis (COA)–letting you know precisely how much CBD is present in each product. For businesses looking for the best CBD products at affordable prices, this GMP certified CBD manufacturer guarantees the best value at a low cost.
Therefore, CBD businesses should understand the difference between CBD White Labeling and CBD Private Labeling when they order products for resale from Sawyer labs.
CBD White Labeling
CBD White Label allows you to create a brand to best reach your defined target market without spending the time, resources, and expenses associated with creating formulated products. Sawyer Labs has done the hard work for you. Consider taking advantage of their tried and trusted products–created with their proprietary formulas.Sawyer Labs uses its in-house chemists to develop standardized formulas for CBD products with health benefits that may help your consumers manage insomnia, reduce anxiety and depression, relieve pain, and reduce acne. These CBD products undergo thorough testing within the in-house GMP facility. Then, the products are tested by a third-party lab for verification.
CBD Private Labeling
Creating your own custom formulas can be a daunting task. Choosing to Private Label with Sawyer Labs allows you to work with their in-house chemists, research and development team, world-class label, and printing team, as well as using their manufacturing experience to create the product you always wanted. They provide only the highest quality formulations that will undergo stability, potency, and preservative-efficiency testing to ensure Sawyer Labs' performance is unmatched. They will take your business's concepts and turn them into reality.
Sawyer Labs is a GMP Certified CBD Manufacturer
Sawyer Labs incorporates both technology and science to produce the best CBD products. They are a GMP Certified CBD Manufacturer and have invested in highly automated equipment to ensure the market's best CBD production process.Order the best CBD products on the market from Sawyer Labs today! Your business can rest assured that every product is tested by a trusted CBD manufacturer who can get CBD products on your shelves within a fast turnaround of seven days.For further information, please visit the Sawyer Labs website today!