Buy Your CBD Products in Bulk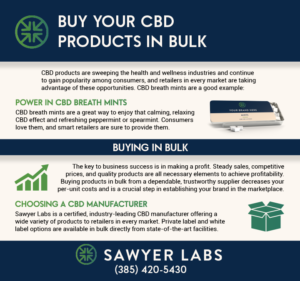 CBD products continue to gain popularity among consumers, and retailers in every market are taking advantage of these opportunities. CBD products of every kind are sweeping the health and wellness industries, and new consumers jump on board every day. CBD breath mints are a good example.
Power in CBD Breath Mints
Let's face it; consumers enjoy conveniences. They like prepackaged products, fast food in a bag, and pizza in a box. Making CBD easy for the consumer to take just makes sense. CBD breath mints are a great way to enjoy that calming, relaxing CBD effect while treating the mouth to a blast of refreshing peppermint or spearmint. Consumers love them, and smart retailers are sure to provide them.
Buying in Bulk
As any retailer knows, the key to business success is in making a profit. Steady sales, competitive prices, and quality products are all necessary elements to achieve profitability. Buying products in bulk from a dependable, trustworthy supplier is a crucial step in establishing your brand in the marketplace. Selling inferior products is a recipe for disaster and a fast track to losing market credibility. Partnering with a professional CBD manufacturer can provide a smart retailer with the products and features they need to dominate.
Choosing a CBD Manufacturer
Selecting the right source for CBD products is critical. Sawyer Labs is a certified, industry-leading CBD manufacturer offering a wide variety of products to retailers in every market. Private label and white label options are available in bulk directly from state-of-the-art facilities. CBD breath mints are among the many products provided, offering the consumer a wide variety of solutions for day-to-day living. Sawyer Labs offers bulk orders of CBD mints, gummies, and soft gels! Sawyer Labs is an industry leader in innovative, powerful CBD products and can help establish a retailer in the CBD markets with the highest quality products at competitive prices. Reach out today and find out how beneficial buying in bulk can be.