CBD for Muscle Pain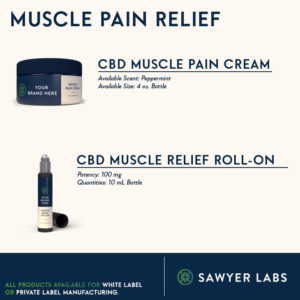 The CBD market is continuously expanding, and more and more applications for CBD oils, CBD lotions, and other products are being discovered all the time. 
New research suggests that CBD lotions may also be an effective way to treat joint and muscle pain since they work similarly to an anti-inflammatory, antiemetic, and antioxidative. When using CBD to treat muscle pain, it can be taken in the form of a CBD edible or oil for general pain or rubbed directly on the muscles to target a specific area of discomfort. Topical creams are typically best suited for muscle pain, because they allow the user to apply treatment directly to the muscle.
CBD may also be effective at pain in dogs as well as people. CBD pet products may help alleviate some of the pain associated with osteoarthritis. This opens the potential CBD market even further for business owners who want to expand their businesses to both pet and human CBD products from a GMP-certified CBD manufacturer. Man's best friend may also reap the benefits of CBD!
Finding a GMP certified CBD manufacturer can help you create your own product range to help people in your community who are searching for CBD products.
Sawyer Labs is a trustworthy GMP certified CBD manufacturer in the US who works with clients nationwide who want to sell their own CBD products. We offer both private label and white label CBD products, so you can be as active in the process as you wish. We also assign each client a personal account representative, so we can guarantee the best service and communication. As word continues to spread that CBD products may help treat pain, the CBD industry will continue to skyrocket. Ensure your business is prepared to handle growing demand with quality products by ordering from GMP certified manufacturer Sawyer Labs.