CBD for Pets: Tinctures and Treats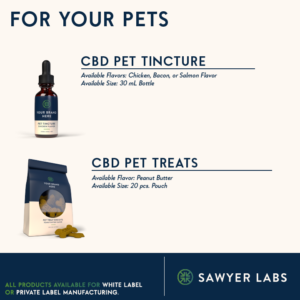 If you've tried CBD yourself with beneficial effects, you may be wondering whether your pet would also benefit from CBD. The health industry has expanded in recent years, and there are now many CBD products aimed at pet owners. CBD for pets has become an industry of its own.
Let's look at how CBD can benefit your pets.
CBD for Pets
Many pets suffer from separation anxiety or get nervous in crowded areas. Perhaps you have a rescue dog who was abused in the past and seems unable to trust people? Adding a CBD tincture to your pet's food may have beneficial effects. CBD is an excellent ingredient for improving symptoms of anxiety and depression in pets as well as humans. CBD also may make hyper dogs calm down and relax and may even improve their sleep quality.As dogs and cats age, they often suffer from joint and muscle pain. Many have conditions such as arthritis that may be improved by adding CBD to their diet. CBD dog treats are available that are made from natural ingredients and include CBD. CBD not only targets pain but can also help with inflammation.If your pet has any pre-diagnosed conditions, it's best to consult your vet before adding CBD to their diet. This is a wise idea, particularly if your pet is taking medication as CBD may affect how some medicines work.
Sawyer Labs
Sawyer Labs creates good quality CBD for pets, including CBD treats loved by all breeds of dogs. CBD tinctures are also available, which can be added to your cat or dog's food to help improve painful conditions associated with aging.Sawyer Labs have achieved a Good Manufacturing Practices Certificate. The company has an accountable, trackable, and verifiable system in place, which allows them to create high-quality CBD products.If you're looking for CBD for pets, don't hesitate to contact Sawyer Labs today!