CBD Muscle Pain Cream May Give Your Customers the Pain Relief They Need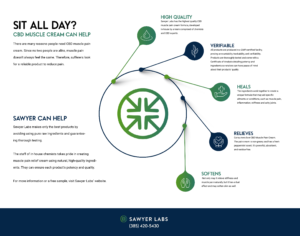 People are spending more and more time sitting and the impact of this on physical health is alarming. Yes, there can be a cardiovascular impact, but even without those extreme effects, sitting all day can cause debilitating muscle pain, especially for those who already have pre-existing health conditions. Lack of activity can actually be as painful to some as strenuous activity is for others. You have customers who are unable to live their life to the fullest because of muscle pain and they want help. They are looking for a simple and convenient way to address this pain at home. CBD Muscle Pain Cream could be the answer they are looking for.
CBD is relatively new to the retail market but its popularity is growing exponentially. According to research done at the University of California – San Diego and John Hopkins University, there are millions of searches for CBD every month. The rate at which people are looking up CBD online has increased over 100% year after year over the last four years.
CBD has been proven to reduce inflammation and neuropathic pain. Studies have also found it effective in treating arthritic pain. These are some of the most illusive causes of pain to treat. Sufferers of these conditions are desperate for help and traditional medicine is not always as effective as they need it to be. Accessing this relief is easier than ever now that it can be applied through CBD Muscle Pain Cream.
Sawyer Labs is a safe and affordable way to manufacture CBD Muscle Pain Cream to get it out to your customers. We are a GMP (Good Manufacturing Practices) Certified manufacturer. With a large variety of products to choose from all made in-house, you have options! Contact us today to place your order or request a sample.