CBD Oil Flavors and Their Benefits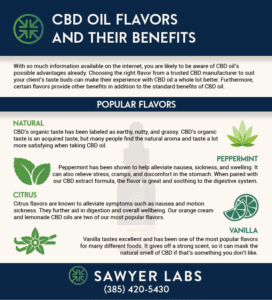 With so much information available on the internet, you are likely to be aware of CBD oil's possible advantages already. Choosing the right flavor from a trusted CBD manufacturer to suit your client's taste buds can make their experience with CBD oil a whole lot better. Furthermore, certain flavors provide other benefits in addition to the standard benefits of CBD oil. Let's look at some of the delicious flavors offered by CBD manufacturer Sawyer Labs.
Natural
CBD's organic taste has been labeled as earthy, nutty, and grassy. We'll point out the obvious here and let you know that CBD's organic taste is an acquired taste, but many people find the natural aroma and taste a lot more satisfying when taking CBD oil.
Pepper Mint
Do you know that the organic peppermint extract from the plant has several advantages? Peppermint has demonstrated positive outcomes in alleviating nausea, sickness, and swelling. It can also relieve stress, cramps, and discomfort in the stomach. When paired with our CBD extract formula, the flavor is great and soothing to the digestive system.
Citrus
You will feel great when you use Sawyer Labs CBD oil, no matter which diet plan you follow. Our orange cream and lemonade CBD oils are simple to take and taste good when placing a drop under your tongue. In fact, this is the best method to take CBD oils, as they can be absorbed by the body a lot faster.Citrus flavors are known to alleviate symptoms such as nausea and motion sickness. They further aid in digestion and overall wellbeing.
Vanilla
You can take drops of vanilla CBD oil under your tongue too. This flavor is a no brainer. Vanilla tastes excellent and has been one of the most popular flavors for many different types of foods. The scent itself is fantastic, so it can mask the natural smell of CBD if that's something you don't like.Get in touch with CBD manufacturer Sawyer Labs to supply your business with the best CBD oil flavors.