CBD Products that Will Help Expand Your Business Inventory this Holiday Season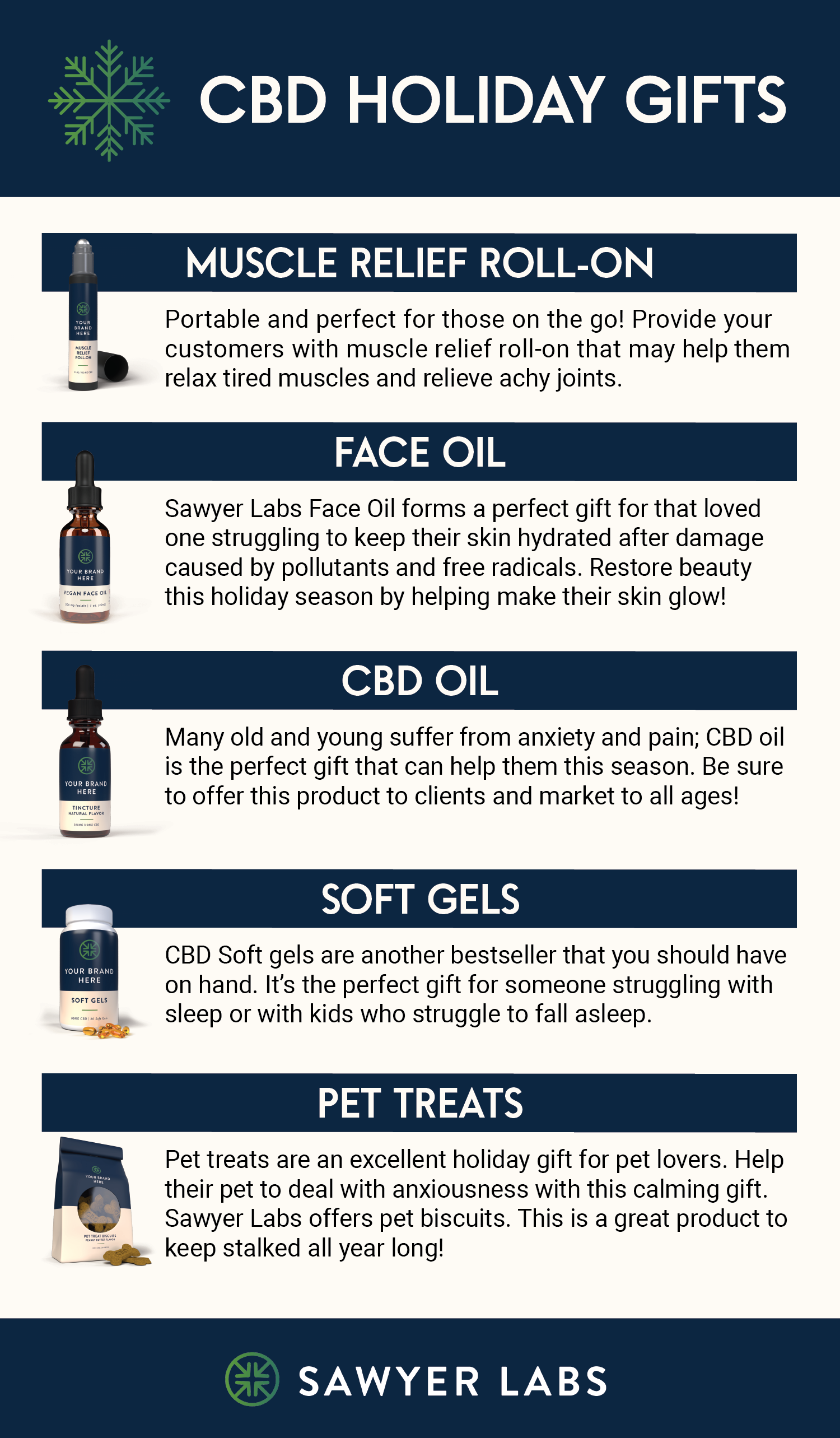 The CBD market is booming, and many are already involved in the CBD retail business. But, do you have the right inventory for explosive growth? GMP certified manufacturers like Sawyer Labs focus on high-quality CBD production with custom formulations to fit your niche.
Whether you are selling online, or have a physical retail store, every order of Sawyer Labs products come with a Certificate of Analysis (COA). At Sawyer Labs, we offer guaranteed lab results with each order. 
Whatever your CBD option — Full-Spectrum, Broad-Spectrum, or Isolate, Sawyer Labs ensures you get the best quality.
Here are Some CBD Products that Will Help Expand Your Business Inventory:
CBD Tinctures
No one wants inflammation and stress to destroy their holiday. So, stocking CBD tinctures may help your business grow and increase sales. Consumers may melt away stress and inflammation by taking a daily dose of Sawyer Labs CBD Oil. With an easy-to-use dropper bottle and a smooth texture, Sawyer Labs CBD Oil is the perfect way to start and end your day. Sawyer Labs has the best CBD Oil in the market that comes in different award-winning flavors and potencies.
Soft Gels
When your consumers reach for a bottle of Sawyer Labs CBD soft gels, they'll start their day off on the right foot. Soft gels are a convenient way for consumers to take his or her daily dose of CBD.As a retailer, this should be in the list of your CBD products inventory. Sawyer Labs' soft gels contain only the purest ingredients, formulated and handcrafted in-house by a team of CBD experts to ensure the highest quality at a great price. 
Pain Cream
During the hustle and bustle of the holiday season, many consumers may feel muscle pain and inflammation. This holiday season, you can expand your business product line by adding CBD pain cream from a GMP certified manufacturing facility like Sawyer Labs.With a burst of freshness, Sawyer Labs CBD Muscle Pain Cream is a great muscle and joint pain option. This thick, non-greasy cream absorbs quickly, leaving your skin soft, supple, and residue-free.
Gummies
Another convenient and tasty way your consumers can take CBD is with Sawyer Labs' CBD gummies. Your consumers can pop a couple of chewy, mouthwatering CBD gummies, and experience a slow release of CBD throughout the day. With delicious flavors, taking their daily dose of CBD has never been sweeter!Sawyer Labs offers vegan and regular gummie options.
Looking for Even More Products?
Here is a list of other Sawyer Labs Products you can to add to your inventory:
Sawyer Labs Guarantee
We guarantee that every purchase of Sawyer Labs products will meet your CBD potency requirements. We take pride in our products, so rest assured that all of the bottles and packaging will be leak-free, professional quality, and comply with FDA regulations.Expand your business product line this holiday season. Visit our Sawyer Labs website for more information today!