CBD Skin Care Your Clients with Love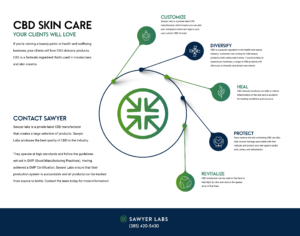 If you're running a beauty parlor or health and wellbeing business, your clients will love CBD skincare products. CBD is a fantastic ingredient that's used in moisturizers and skin creams.
Let's look at how you can use private labeling to expand your business.
Private Label CBD Manufacturer
If you already own a health and wellbeing business and are looking to expand, you may like to stock some CBD skincare products. Sawyer labs is a private label CBD manufacturer, which means you can add your companies name and logo to your own custom CBD formula.
CBD is a popular ingredient in the health and beauty industry. Customers are looking for CBD beauty products, both online and in-store. If you're looking to expand your business, a range of CBD products will allow you to diversify and attract new clients.
The Benefits of CBD skincare
CBD skincare products can help to reduce inflammation of the skin and is excellent for treating conditions such as acne.
Face creams and oils containing CBD can also help reverse damage associated with free radicals and protect your skin against pollutants, stress, and dehydration. CBD moisturizer can be used on the face to help fight dry skin and reduce the appearance of fine lines.
Contact Sawyer Labs!
Sawyer labs is a private label CBD manufacturer that creates a large selection of products from CBD hydrating face wash, CBD body butter, and CBD face moisturizer. Sawyer Labs produces good quality products that are the best in the industry. They operate at high standards and follow the guidelines set out in GMP (Good Manufacturing Practices). Having achieved a GMP Certification, Sawyer Labs ensure that their production system is accountable and all products can be tracked from source to bottle.
Sawyer Labs offers private label CBD products which you can use to expand your business. Contact the team today for more information!