CBD Soft Gels, Tinctures, and More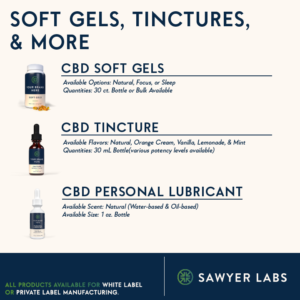 CBD, or cannabidiol, is an active compound found in hemp. In recent years, CBD has grown in popularity as a potential health supplement. CBD comes in many forms, including topical creams, edibles, and other products. CBD manufacturer Sawyer Labs offers products from CBD soft gels to tinctures and more.
What Is a CBD Soft Gel?
Many people who use CBD prefer soft gels over other ways of consuming CBD. Soft gels are easier to swallow, don't break in the bottle, don't leave an aftertaste, and are a simple way of taking CBD each day. Soft gels also have a longer shelf life than many other products.
At Sawyer Labs, our soft gels come in a variety of types: sleep, focus, and natural. As a trustworthy CBD manufacturer, we guarantee our products are free of herbicides, pesticides, and heavy metals, so you and your consumers can rest easy knowing you're getting the best of the best.
What Is a CBD Tincture?
A CBD tincture is a liquid form of CBD oil that can be dropped under the tongue.
We offer a variety of flavors so your customers can combine the potential benefits of CBD with great taste. We offer tinctures in natural, vanilla, mint, orange cream, tropical, lime, and mixed berry flavors.
We also offer tinctures in full-spectrum, broad-spectrum, and isolate. You can select according to your and your customers' needs.
CBD Soft Gels Vs. Tinctures
Both CBD Soft Gels and tinctures may provide fantastic benefits. It all depends on the individual customers' needs. With a wide variety of other CBD products, you are sure to find something the supports your CBD retail business.
To browse CBD products, visit CBD manufacturer SawyerLabs.com. Your clients will absolutely love our CBD soft gels and tinctures and will surely be coming back for more!