Sawyer Labs: A Trusted and Certified CBD Manufacturer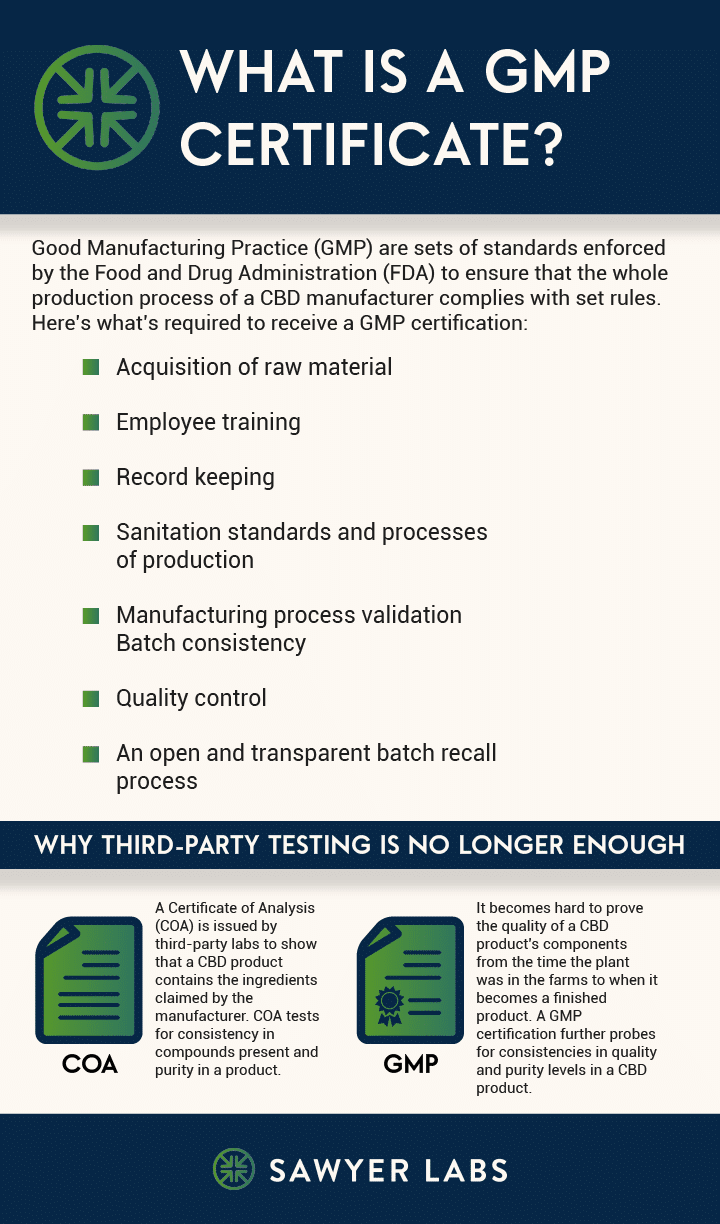 The CBD market is flooded with the good, the bad, and the ugly. While there are many high-quality CBD manufacturer, there are also many not so great ones.
Certified CBD Manufacturer
A go-to CBD manufacturer that is trusted and certified is Sawyer Labs. How do you know that you can trust Sawyer Labs to provide you with the best quality CBD?
Sawyer Labs is both state-licensed, and FDA approved. They also offer a COA (Certificate of Analysis) for all products. The manufacturing facility is also GMP (Good Manufacturing Processes) Certified. This is not something that all CBD manufacturer's on the market can boast about. All of the products made by Sawyer Labs fit the strict requirements under the Farm Bill, so you know the product you're getting is high quality.
Sawyer Labs also does third-party testing. Some of the less trustworthy CBD producers will not get their products third party tested. This is because there may be unwanted pesticides or chemicals, or their potencies may be incorrect. With every order, Sawyer Labs will produce a Certificate of Analysis (COA) to show the exact amount of cannabinoids in every product.
What to Look For
When looking at where products are produced, Sawyer Labs also makes everything on-site, within their FDA approved facility. Every product is conceptualized, developed, formulated, and built in house. Many CBD manufacturers are known to create their products off-site, leading to a less than ideal product for the consumer.
So, what type of products can Sawyer Labs offer you? To start, Sawyer labs sells both white label and private label products. This is done to cater to your individual consumer needs. If you're looking to develop a product from scratch, Sawyer Labs will work with you and their in-house chemists to produce a product to meet your needs.
To Wrap It Up
If you're looking to add your label on one of Sawyer Labs CBD products, there are many options to choose from. Whether it be face creams and washes, tinctures, gum, soft gels, bath bombs, or pet treats, Sawyer Labs has you covered.
Check out the full list of products here.