Easy to Carry, Refreshing to Eat – CBD Breath Mints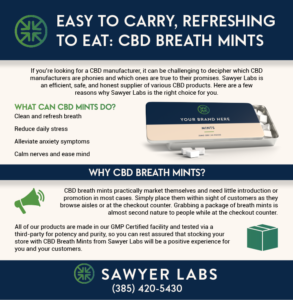 Looking for a new product to place in your online shop? Sawyer Labs has just the thing: CBD Breath Mints. Produced in our GMP-certified facility, our CBD breath mints are an excellent way to clean up your breath and help reduce the toils of stress throughout the day. In several case studies and medical reviews, it has been suggested that CBD may help reduce anxiety and stress, especially among those who struggle with anxiety.
Given the current worldwide global health crisis, stress levels are on the rise across the world, which may potentially increase demand for products that may help treat everyday stress. Easy to slip into your pocket and refreshing to eat, CBD breath mints fit the bill. Savvy business owners can invest in our superior CBD products and market an alternative product to their customers when they need it the most.
As a bonus, CBD breath mints practically market themselves and need little introduction or promotion in most cases. Simply place them within sight of customers as they browse aisles or at the checkout counter. Grabbing a package of breath mints is almost second nature to people while at the checkout counter, and the possibility of stress relief with a daily mint is hard for most people to pass up.
Each mint offers a refreshing taste and serves up just the right amount of calming power. All of our products are tested via a third-party for potency and purity, so you can rest assured that stocking your store with CBD Breath Mints from Sawyer Labs will be a positive experience for you and your customers.