Give the Gift of a Better Nights Sleep with CBD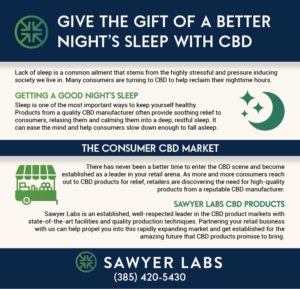 There's no doubt we live in a highly stressed society. We're constantly under pressure. Careers, family, financial obligations, relationships, health concerns, even our hobbies take lots of our time and place demands on us daily. From a young age, we find ourselves stressed out. Unfortunately, one of the biggest side effects of stress is the lack of sleep. So how can a CBD manufacturer help?
Getting a Good Night's Sleep
One of the most important ways to keep yourself healthy is through regular, good nights of sleep. Sleep is powerful for the natural refreshing of the body and the mind. But in the high-stress lifestyle we live in, good sleep is often hard to achieve. Worries, fears, and life concerns keep us up, and the anxieties of life can be overwhelming. For many people, the answer to the problem is CBD. Products from a quality CBD manufacturer often provide soothing relief to consumers, relaxing them and calming them into a deep, restful sleep.
The Consumer CBD Market
As more and more consumers reach out to CBD products for relief, retailers are discovering the need for high-quality products from a reputable CBD manufacturer. The CBD industry continues to skyrocket, and savvy retailers are jumping on board and establishing their niche in the marketplace. There has never been a better time to enter the CBD scene and become established as a leader in your retail arena.
Sawyer Labs CBD Products
Sawyer Labs is an established, well-respected leader in the CBD product markets. As a certified CBD manufacturer, our state-of-the-art facilities and quality production techniques have placed us at the forefront of this burgeoning industry. By partnering your retail business with us, we can help propel you into this rapidly expanding market and help you get established for the amazing future that CBD products promise to bring. Give us a call today and get started on your CBD retailer journey.