Help Combat Depression with CBD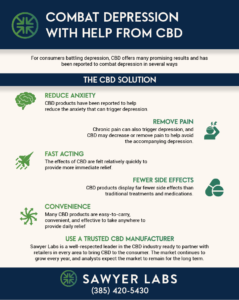 At Sawyer Labs, we strive to develop genuine solutions for the challenges and complications of life. As a premier CBD gummy manufacturer, we assure our retailers that every item they place on the shelves is the highest quality product from our certified manufacturing facilities. For consumers battling depression, CBD offers many promising results and has been reported to combat depression in several ways.
The CBD Solution
The possible benefits of CBD in helping combat depression are many:
Reducing Anxiety.

Anxiety and depression frequently go hand in hand. CBD products have been reported to help and may reduce the anxiety that can trigger depression.

Remove Pain.

CBD products also may lower levels of pain. Chronic pain is also a common trigger for depression, and decreasing or removing the pain may help avoid the accompanying depression.

Fast Acting.

The effects of CBD are felt relatively quickly, and it may provide more immediate relief. Products such as the CBD gummies don't take days or weeks like some traditional

medical solutions

.

Fewer Side Effects.

CBD products tend to display far fewer of the side effects of traditional treatments and medications, making their use much more pleasant to the consumer.

Convenience.

Products like CBD gummies give the consumer an easy-to-carry, convenient, and effective product to take with them everywhere they go. It's easy, and for many, it may provide just the relief they need on a daily basis.
CBD Gummy Manufacturer
Sawyer Labs is a well-respected leader in the CBD industry, and we are ready to partner with retailers in every area to bring the magic of CBD to the consumer. The market continues to grow every year, and analysts expect the market to remain for the long term. Let Sawyer Labs be your CBD gummy manufacturer and put your business in one of the hottest industries to come along in years. Give us a call today.