How Can Children Benefit from CBD?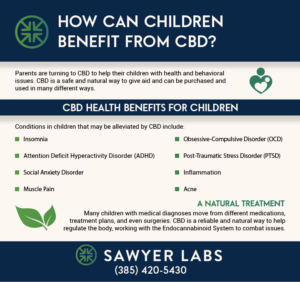 Could CBD be the new way to calm kids down? The new wave of CBD-using millennial and open-minded parents are more curious than ever before about sharing CBD products with their kids. Many moms want to know if it's safe to give CBD products to their children and how they benefit from them.
Health Benefits of CBD for Children
The attitude around CBD is evolving everywhere in the world- it's not just a thing with the millennials.
Conditions in children that may benefit from CBD include:
Kids struggling with anxiety, including obsessive-compulsive disorder (OCD), social anxiety disorder, and post-traumatic stress disorder (PTSD), can significantly benefit from CBD. A study on a

10-year old child

with PTSD showed that CBD oil helped reduce insomnia and improved her feeling of anxiety.

Many parents report a reduction in their children's symptoms of attention deficit hyperactivity disorder (ADHD) after using CBD oil.

Sore muscles are not just for the older generation. CBD may help reduce inflammation and pain in the muscles.

CBD may also help to fight acne.

May help calm children and help them fall asleep and get more restful sleep.
Shaming Is Preventing Sick Children from Getting HelpMany children with medical diagnoses suffer daily, moving from different medications, treatment plans, and even surgeries. CBD is a reliable natural way to start regulating the body. However, the challenge is finding quality products from a reliable CBD gummy manufacturer. Sawyer Labs has made it easy for you! We are your most capable, credible, and trustworthy CBD gummy manufacturer that guarantees the very best!Sawyer Labs has many different products but, CBD gummies are an excellent choice for children! To access safe and legal CBD products for your kids, give us a call, and we promise never to disappoint!