Incorporate Calm with CBD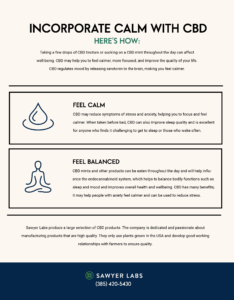 Incorporate Calm with CBD
Stress is an issue that affects many people and can create difficulties at work, in relationships, and can even disrupt family life. CBD has provided relief for many people who suffer from common mental health issues such as stress, anxiety, and depression. Taking a few drops of CBD tincture or sucking on CBD mints throughout the day can affect well-being. CBD may help you to feel calmer, more focused, and improve the quality of your life.
CBD regulates mood by releasing serotonin to the brain, making you feel calmer. Let's look at how you can incorporate a feeling of calm in your life with CBD.
Feel calmer with CBD
CBD may reduce symptoms of stress and anxiety, helping you to focus and feel calmer. When taken before bed, CBD can also improve sleep quality and is excellent for anyone who finds it challenging to get to sleep or those who often wake during the night.
CBD mints and other products can be eaten throughout the day and will help influence the endocannabinoid system, which helps to balance bodily functions such as sleep and mood and improves overall health and wellbeing. CBD has many benefits; it may help people with axiety feel calmer and can be used to reduce workplace stress.
Contact Sawyer Labs Today!
Sawyer Labs produce a large selection of CBD products, including CBD tinctures, beauty products, and CBD mints. The company is dedicated and passionate about manufacturing products that are high quality. They only use plants grown in the USA and develop good working relationships with farmers to ensure quality.
The company tests each batch of CBD to ensure the potency of their products is correct. Sawyer labs have achieved a Good Manufacturing Practise (GMP) certification.
If you're searching for white label or private label, CBD products contact Sawyer Labs today!