Lotion vs. CBD Body Butter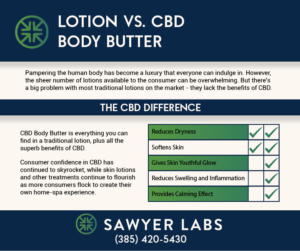 Pampering the human body has become a luxury that everyone can indulge in. Treating our skin to any of a number of lotions helps reduce dryness and leaves the surface soft and beautiful. However, the sheer number of lotions available to the consumer can be overwhelming. But there's a big problem with most traditional lotions on the market – they lack the benefits of CBD.
The CBD Difference
Sawyer Labs is a CBD manufacturer that produces a wide variety of CBD empowered products. One of the most popular of those products is CBD Body Butter. This specially-engineered body treatment is great for that home spa experience. It gives the skin a deep moisturizing, youthful glow, and since it is infused with CBD, it may help reduce any swelling or internal inflammation, and it may also provide the user with an overall calming effect. CBD Body Butter is everything you can find in a traditional lotion, plus all the superb benefits of CBD infusion.
Consumer Confidence
The skincare market has continued to grow by the billions for the last five years. Skin lotions and other treatments continue to flourish as more consumers flock to spas or create their own home-spa experience. Along with the increased interest in skincare, consumer confidence in CBD products has continued to skyrocket. The merger of these two markets in skin treatments such as Sawyer Labs CBD Body Butter promises to continue to dominate the skincare market for many years to come.
Choosing Your CBD manufacturer
As a retailer, you want to select a CBD manufacturer that you can trust to partner with you and help secure your portion of this burgeoning industry. Sawyer Labs is an established, professional CBD manufacturer that can private label or white label products with your brand, ready to sell. Contact us today to see how Sawyer Labs can help propel your business into the great future of CBD.