Sawyer Labs CBD Facial Care Products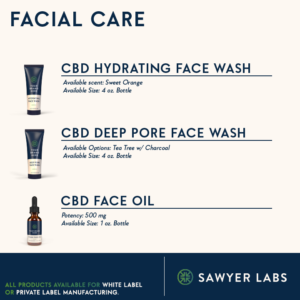 The popularity of CBD continues to skyrocket, and the uses and applications of the products are constantly expanding. Retailers in every market see the effects of CBD on their industries. Finding a CBD manufacturer that is growing to meet the needs of the marketplace and to fill every niche and need for the consumer is key to the success of the retailer in the market. Sawyer Labs is an established, trusted source for every type of CBD product, including facial and skin care.
CBD Face Care
Face care covers a number of issues, and CBD face care products are available for every purpose. They include CBD Hydrating Face Wash which may refresh the skin and reduce acne and inflammation; CBD Face Moisturizer to recover dry skin and may reduce fine lines and creases; and CBD Face Oil which may restore a youthful, healthy glow to the face while reversing any previous damage done to the skin. CBD Deep Pore Face Wash may provide deep cleansing and pore conditioning. In addition to the nourishing ingredients already in skincare products, CBD face care products may provide the other wonderful benefits of CBD.
Face Care Industry
The face care market is growing exponentially, and CBD products are at the forefront. As these products continue to expand in sales, savvy retailers will be adding these lines to their stores and every online shopping experience. Skincare products are popular in all regions, age groups, and other demographics, making them some of the most lucrative items to sell.
CBD Manufacturer Sawyer Labs
Partnering with a quality CBD manufacturer is the first step to success in the face care industry. Sawyer Labs is a professional, well-established leader in CBD manufacturing, offering certified white label and private label products ready for retailers to stock and promote. Give us a call and see how Sawyer Labs can help put your business at the forefront of this exciting industry.