Sawyer Labs CBD Gummies and Mints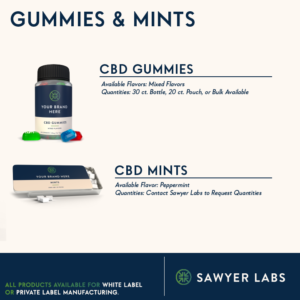 There's no doubt about it; CBD products are sweeping over every level of society with potential solutions for many problems. CBD production facilities create formulas and applications that include tinctures and many other forms of CBD. Many people include CBD products in their daily living; CBD gummies and mints are particularly attractive products. Many have reported various advantages and benefits that may help them deal with day-to-day issues and enhance their lives in wonderful ways. CBD is certainly here to stay, so it's important to find a CBD gummy manufacturer who can provide quality products for your business.
Ease Of Use
One of the biggest advantages of CBD products is that they are so easy to use. Application creams and lotions can be applied externally, while tinctures are taken internally as needed. There is even more portable, instant options for the on-the-go consumer to enjoy, which come in the form of CBD gummies and CBD mints from a quality CBD gummy manufacturer.
CBD Gummies and Mints
Gummies and mints are the ultimate conveniences for the active CBD user. The same powerful formulas that are available in other forms are provided to the consumer in simple, chewable gummies or easily dissolvable breath mints. These CBD products are easy to carry in a pocket, personal bag, or in a vehicle and can simply be popped into the mouth at any time. They are simple, convenient, and may provide instant relief to the busy consumer.
Qualified CBD Gummy Manufacturer
As the retail market continues to grow for CBD products, partnering with an established, reputable CBD gummy manufacturer is crucial to the success of the retailer. Sawyer Labs is a well-respected industry leader in CBD production. Our state-of-the-art facilities produce both white label and private label certified CBD products, pre-branded for the retailer to simply stock and sell. Contact us and see how Sawyer Labs can help propel your enterprise to be a leader in this rapidly expanding industry and ride the wave of CBD success today.