Sawyer Labs: Where Quality, Purity, and Potency Matters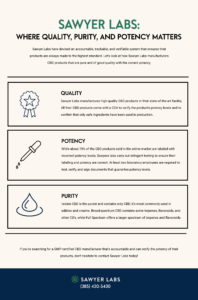 Sawyer Labs: Where Quality, Purity, and Potency Matters
Sawyer Labs produces high-quality CBD products and is a GMP certified manufacturer. This means that they take quality and potency seriously and operate at the highest standard.
Sawyer Labs have devised an accountable, trackable, and verifiable system that ensures their products are always made to the highest standard. Let's look at how Sawyer Labs manufacturers CBD products that are pure and of good quality with the correct potency.
Quality
Sawyer Labs manufactures high-quality CBD products in their state-of-the-art facility. All their CBD products come with a COA to verify the product's potency levels and to confirm that only safe ingredients have been used in production.
Sawyer Labs employs a team of dedicated and passionate in-house chemists who have years of experience of producing high-quality CBD products. The company also uses quality control methods when choosing the farmers they work with.
Potency
While about 70% of the CBD products sold in the online market are labeled with incorrect potency levels, Sawyer Labs carry out stringent testing to ensure their labeling and potency are correct. At least two laboratory employees are required to test, verify, and sign documents that guarantee potency levels. This helps with quality control and limits errors.
Purity
Sawyer Labs produces the most extensive variety of CBD products globally and offers different purities. Isolate CBD is the purest and contains only CBD; it's most commonly used in edibles and creams. Broad-spectrum CBD contains some terpenes, flavonoids, and other CB's, while Full Spectrum offers a larger spectrum of terpenes and flavonoids.
Sawyer Labs GMP certified CBD manufacturer
Sawyer labs produce excellent quality CBD products that are the correct potency and are manufactured using ingredients grown in the USA. The company has a state-of-the-art production facility and tracks its ingredients from farm to bottle.
If you're searching for a GMP certified CBD manufacturer that's accountable and can verify the potency of their products, don't hesitate to contact Sawyer Labs today!