Start Your Brand Effortlessly with Sawyer Labs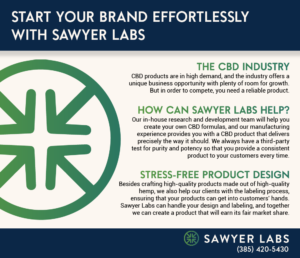 A decade ago, most people would not recognize CBD as a product, but today CBD products are in high demand. It is expected that the CBD market will grow at a compound rate of 22.2% by the time 2025 rolls around. If you are looking for a unique business opportunity with plenty of room for growth, CBD is clearly it, but in order to compete against everyone else looking to cash in, you need a reliable product. This is where a private label CBD manufacturer like Sawyer Labs can come to your aid.
As a private label CBD manufacturer, we can help you create your own CBD formulas to help make your own corner of the CBD marketplace. While this may seem intimidating at first glance, you are not on your own when you work with Sawyer Labs. We offer you our manufacturing experience and our research and development team so that the final result is a CBD product that delivers precisely the way it should. As part of our manufacturing process, we third-party test for purity and potency so that you provide a consistent product to your customers every time.
Besides crafting high-quality products made out of high-quality hemp, we also help our clients with the labeling process, ensuring that your products are attractive enough to get into customers' hands. Private label brands account for about 21% of consumer packaged sales at US stores, so there is money to be made if you can attract shoppers' attention. As a private label CBD manufacturer, we know how to attract attention; we got yours after all. Allow Sawyer Labs to handle your design and labeling, and together we can create a product that will earn its fair market share. Place an order for CBD products today or request a sample at SawyerLabs.com.