Take your unique CBD formulation to Sawyer Labs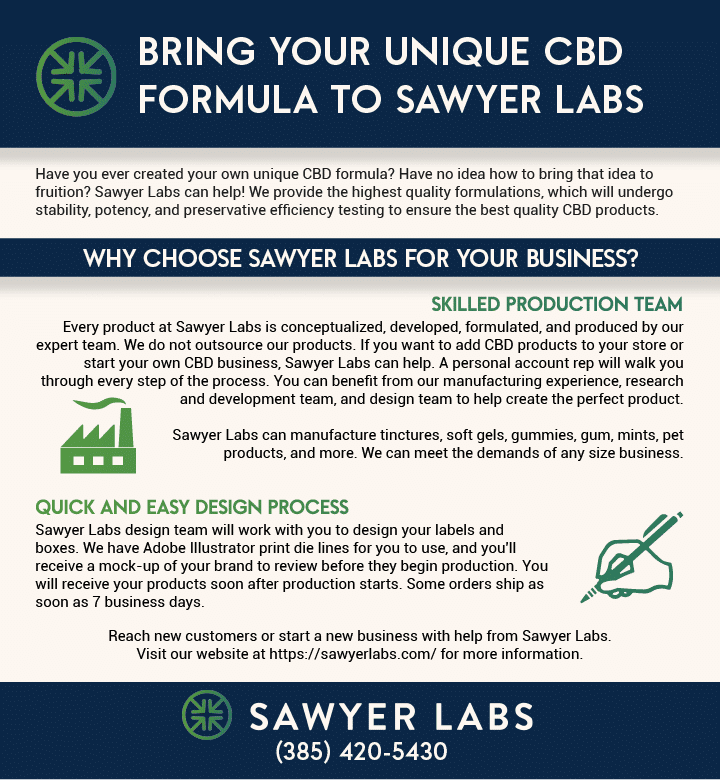 Have you ever created your own unique CBD formula? Have no idea how to bring that idea to fruition? Sawyer Labs can help! We provide the highest quality formulations, which will undergo stability, potency, and preservative efficiency testing to ensure the best quality CBD products. Working with a Certified CBD Manufacturer can help you!
Why CBD?
CBD products are one of the hottest trends in the health and beauty aids market. Selling these items can fulfill your customers' needs, along with turning a nice profit for your store.CBD stands for cannabinoids, which are a group of compounds found in the cannabis plant. These compounds may have health benefits, including potential anti-inflammatory properties, and calming effects to help with anxiety. Taking CBD has been known to help stimulate your endocannabinoid system, promote stabilization, reduce pain, fight inflammation, provide anxiety relief, and promote quality sleep.
Who is Sawyer Labs?
Every product at Sawyer Labs is conceptualized, developed, formulated, and produced by our expert team. We do not outsource our products. If you want to add CBD products to your store or start your own CBD business, Sawyer Labs, a certified CBD manufacturer can help. A personal account rep will walk you through every step of the process with their manufacturing experience, research and development team, and a design team to help create the perfect product.Sawyer Labs can manufacture tinctures, soft gels, gummies, gum, mints, pet products, and more. we promise to meet the demands of any size business.Sawyer Labs' design team will work with you to design your labels and your boxes. We have Adobe Illustrator print die lines for you to use, and you'll receive a mock-up of your brand to review before they begin production. Once production has started on your products, you will receive them fast. Some orders ship as soon as seven business days. Reach new customers or start a new business with help from Sawyer Labs. Visit our website at https://sawyerlabs.com/ for more information.