The Benefits of an Individual Account Representative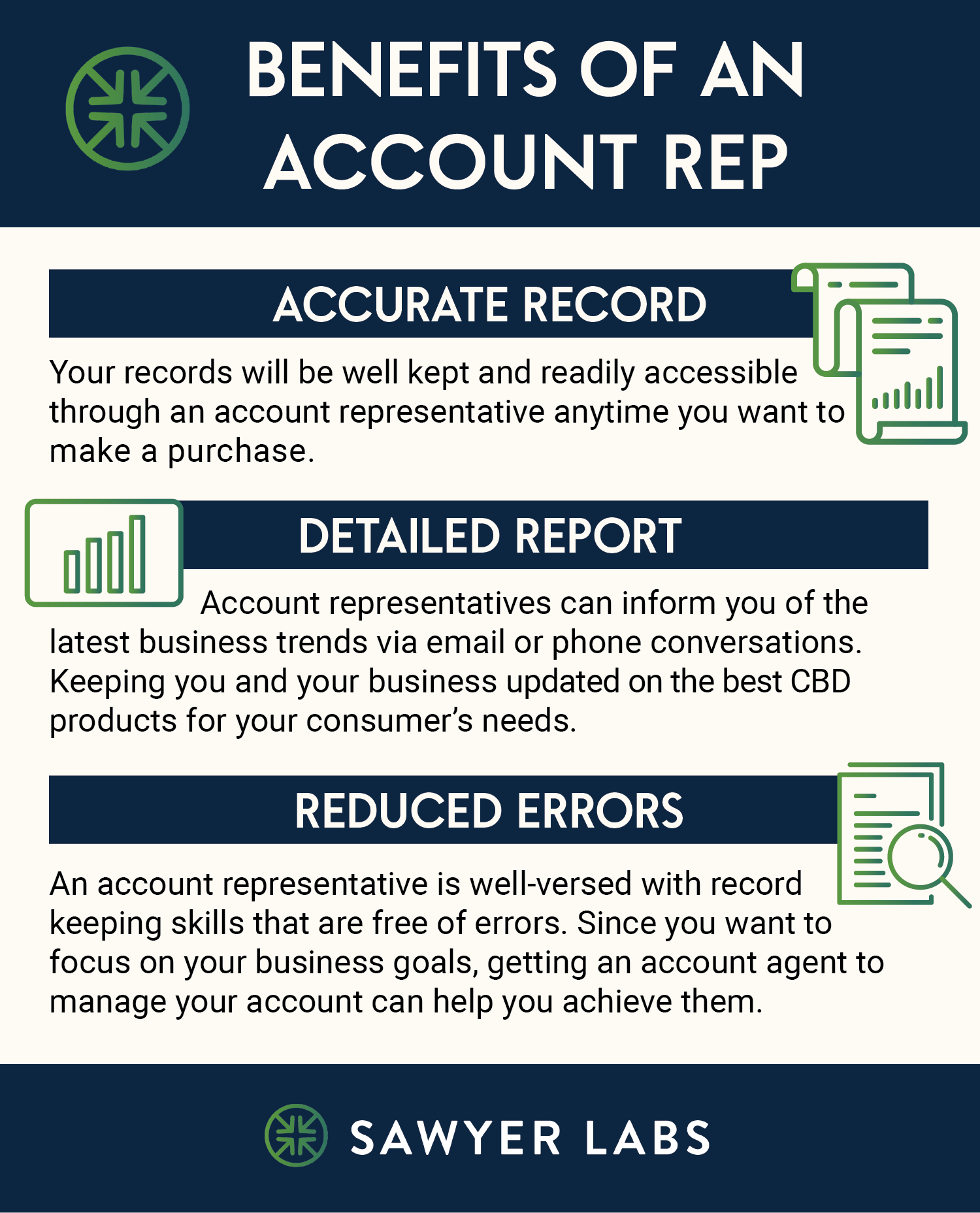 Sawyer Labs Account Representatives
As a CBD retailer, getting an account representative to oversee all the transactions between you and the CBD manufacturer, such as Sawyer Labs, is essential. Customer Service is important to us, and we want to treat each customer as we would like to be treated. Our customers become partners as we help them grow.  Having an account rep that handles each order from start to finish provides a customer service level not matched in the industry to sell CBD. 
The Main Benefits of Having an Account Representative Include:
Accurate Record-keeping for Effective Management of Your Account
At Sawyer Labs, we manufacture all of our CBD products in-house, which means you get high-quality products. Your records will be well-kept and readily accessible through an account representative anytime you want to make a purchase. And since the company has high capacity capabilities, you will enjoy the fast turnaround times and accurate results.
Up-selling and Cross-selling Additional CBD Products and Services to Existing Clients
An account representative also plays a significant role in establishing a one-on-one rapport between CBD businesses and Sawyer Labs. Besides writing detailed reports, account representatives can inform you of the latest business trends via email or phone conversations. Keeping you and your business updated on the best products for your consumer's needs. 
Reduced Errors
As a retailer who sells CBD, you may not have the time or expertise to record or calculate your transactions every time you need to make a purchase. An account representative is well-versed with record-keeping skills that are free of errors. Since you want to focus on your business goals, getting an account agent to manage your account can help you achieve them and sell CBD.
Sawyer Account Representatives are Here to Help
There is nothing more important than treating our customers right, so we strive to provide the best service possible. When you partner with us, you'll be assigned a personal account rep who is an expert in the CBD industry to guide you every step of the way. They will handle your order, track its production process, and keep you updated until your product is in your hands.For more information, visit our Sawyer Labs website today!