Want to Start a Business? The CBD Industry is Booming!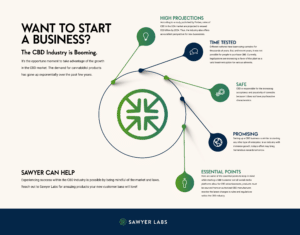 The upward trend in the CBD industry has led entrepreneurs to set up CBD businesses far and wide. However, trying to understand the legality and regulations surrounding this industry may not be straightforward to everyone. Therefore, the following article aims to simplify the terms and offer advice on starting a CBD business.
Looking for a CBD manufacturer? Sawyer Labs supplies verifiable and accountable CBD products to retailers. The products are created, manufactured, and formulated by in-house chemists, and the raw materials are sourced from vetted farms. Contact the CBD manufacturer today for more details.
The Booming CBD Industry
It's the opportune moment to take advantage of the growth in the CBD market. The demand for cannabidiol products has gone up exponentially over the past few years.According to a study published by Forbes, sales of CBD in the USA market are projected to exceed $20 billion by 2024. Thus, the industry also offers an excellent perspective for new businesses.Different cultures have been using cannabis for thousands of years. But, until recent years, it was not possible for people to purchase CBD. Currently, legalizations are increasing in favor of this plant as a valid treatment option for various ailments.CBD is responsible for the increasing acceptance and popularity of cannabis because it does not have psychoactive characteristics.
How to Start a CBD Business
Setting up a CBD business is similar to starting any other type of enterprise. In an industry with immense growth, today's effort may bring tremendous rewards tomorrow.Here are some of the essential points to keep in mind while starting a CBD business:
Not all social media platforms allow for CBD advertisements

Products must be sourced from an authorized CBD manufacturer

Monitor the latest changes in rules and regulations within the CBD industry
Experiencing success within the CBD industry is possible by being mindful of the market and laws. Reach out to Sawyer Labs for amazing products your new customer base will love!