What Does a CBD Manufacturer Offer?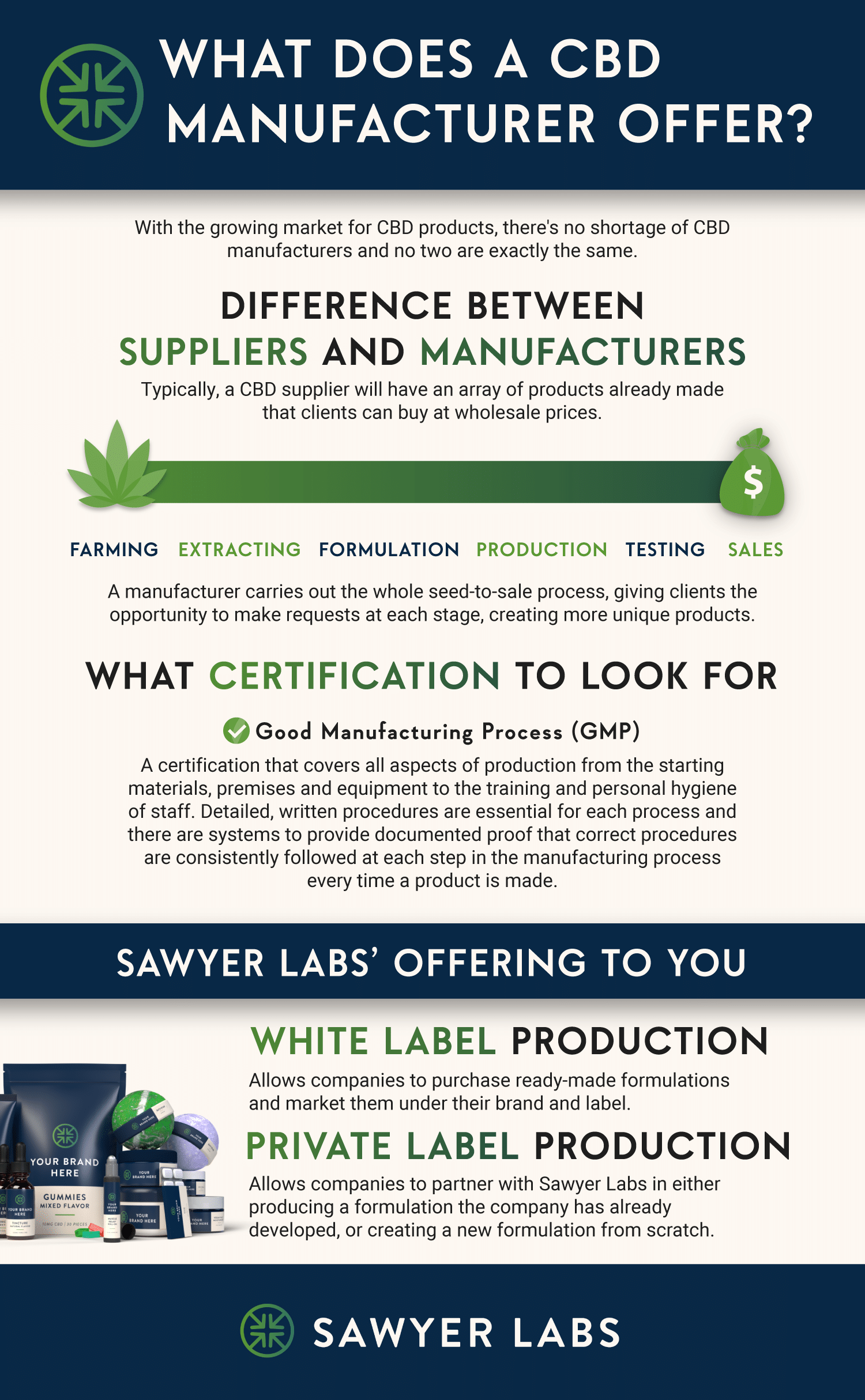 The Difference Between a CBD Supplier and a CBD Manufacturer
It can be easy to confuse a CBD supplier with a CBD manufacturer. But, there are many differences between the two. Typically, a CBD supplier will have an array of products already made that clients can buy at wholesale prices. A supplier won't have the capability to create customized products, and clients won't be involved in the production process. That's where a manufacturer comes in.
While a CBD manufacturer will offer bulk buying benefits like a supplier, they offer much more. A manufacturer carries out the whole seed-to-sale process. This allows clients to make requests at each stage, creating more unique products. The process involves:
Farming
Extracting
Formulation
Production
Testing
Sales
A reputable manufacturer should be able to produce specific licenses or certificates, so you know they're using safe methods that comply with regulations. While these can differ between states, three standard certificates to look out for are:
Fair Manufacturing Process (GMP)
International Organization for Standardization (ISO)
Governance & Professional Practice (GPP)
Manufacturers like Sawyer Labs ensure all their products have a certificate of analysis (COA) so that clients and customers know the exact levels of CBD and THC in the work they're buying.
Sawyer Labs: A Manufacturer With a Lot to Offer
Why Sawyer Labs? Well, Sawyer Labs is a CBD manufacturer with two primary levels of service. It's White Label products allow companies to purchase ready-made formulations and market them under their brand. Private Label products enable companies to partner with Sawyer Labs to produce a formulation the company has already developed or created a new formulation from scratch.
If you didn't know, Sawyer Labs operates from a 20,000 sq ft facility approved by the FDA. It enables them to produce large quantities of CBD products with quick turnaround times as short as seven days. This offers continuous support to clients from concept to sale as they launch and grow their CBD businesses.