What does "Broad Spectrum" CBD Products Mean?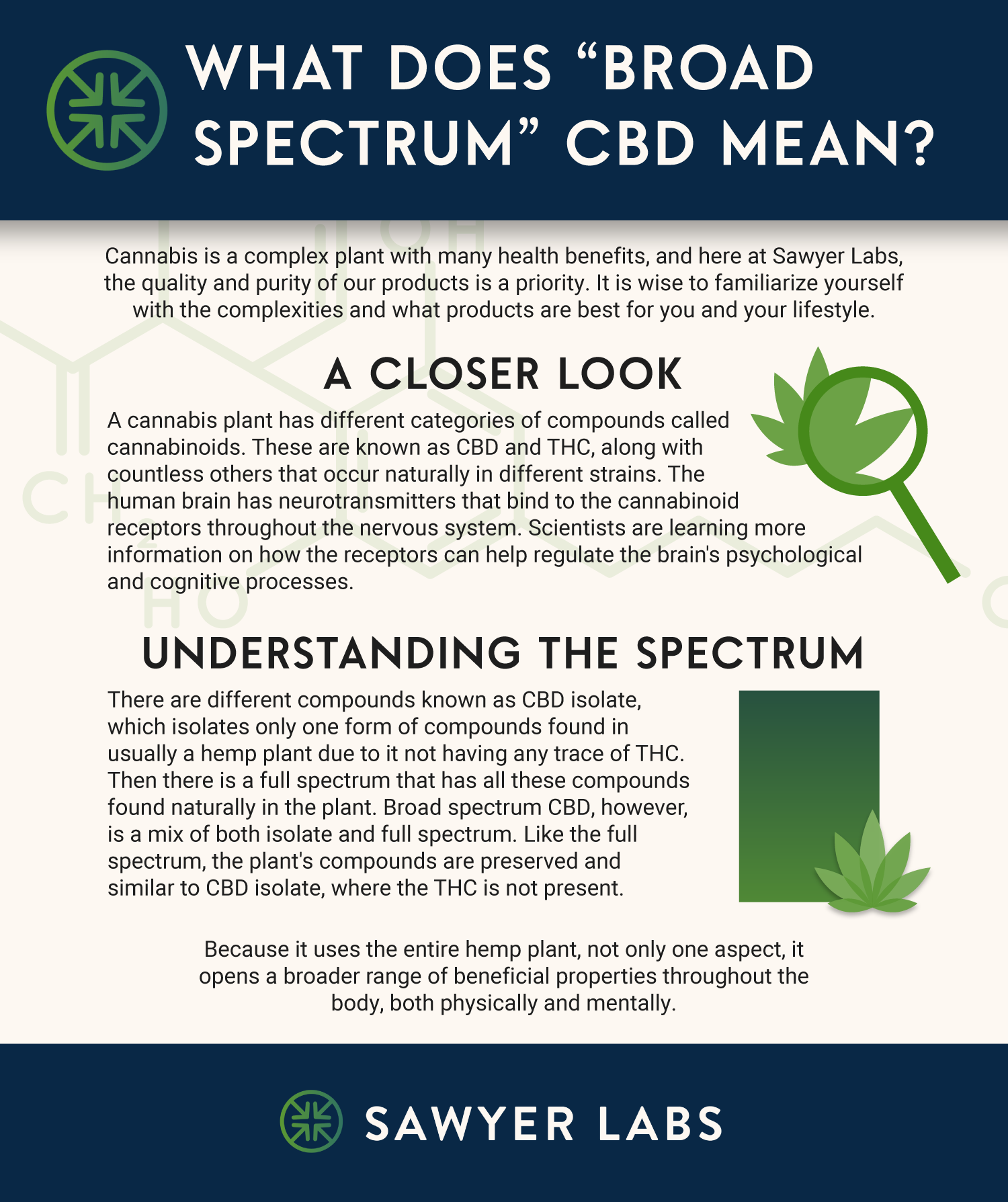 If you didn't know, Cannabis is a complex plant with many health benefits. Here at Sawyer Labs, the quality and purity of our products is a priority. It is wise to familiarize yourself with the complexities and what products are best for you and your lifestyle. Let's take a closer look at broad-spectrum CBD. And what that means to the consumer.
CBD Production
A cannabis plant has different categories of compounds called cannabinoids. These are known as CBD and THC, along with countless others. These occur naturally in different strains. The human brain has neurotransmitters that bind to the cannabinoid receptors throughout the nervous system. Scientists are learning more about how the receptors can help regulate the brain's psychological and cognitive processes. Each of these cannabinoids affects the body in different ways.
Broad Spectrum
Sawyer Labs is here to help you understand the advantages of our broad-spectrum CBD products. There are different compounds, such as CBD isolate. Isolates are only one form of compounds found in usually a hemp plant due to it not having any trace of THC. Then there is a full spectrum that has all these compounds found naturally in the plant. Broad-spectrum CBD, however, is a mix of both isolate and full-spectrum. Like the full-spectrum, the plant's compounds are preserved and similar to CBD isolate, where the THC is not present.
Wrapping It Up
There is still much to learn about broad-spectrum CBD, and Sawyer Labs is continuously working with our third-party researchers to ensure the highest quality for the best results. Broad-spectrum is a valid option if you have a sensitivity or live in a state with enforced THC restrictions. Did you know this compound is a useful option that is known to alleviate anxiety without psychoactive properties? CBD oils can help with skin blemishes, muscle aches, and a proponent of the entourage effect. Because it uses the entire hemp plant, not only one aspect, it opens a broader range of beneficial properties throughout the body, both physically and mentally.