What does "Full Spectrum" CBD Products Mean?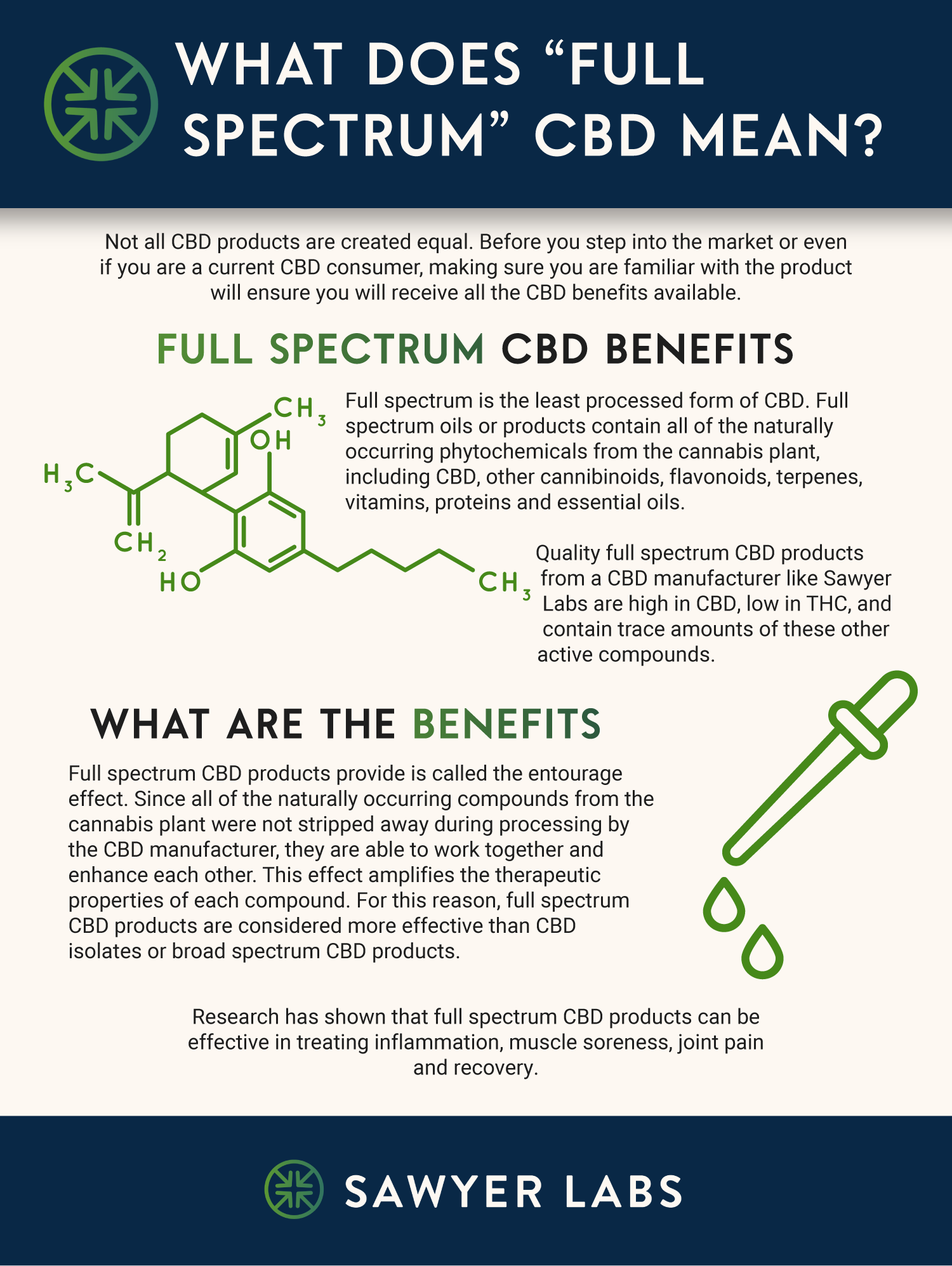 Is your CBD isolate or broad-spectrum CBD product just not working to alleviate your symptoms? Or maybe you're looking for a product with a trace amount of THC. A full-spectrum CBD product may be the answer for you. A CBD Manufacturer may not have all options as Sawyer Labs does.
What is a full-spectrum CBD product?
The full spectrum is the least processed form of CBD. Full-spectrum oils or products contain all of the naturally occurring phytochemicals from the cannabis plant, including CBD, other cannabinoids, flavonoids, terpenes, vitamins, proteins, and essential oils. Quality full-spectrum CBD products from a CBD manufacturer like Sawyer Labs are high in CBD, low in THC, and contain trace amounts of these other active compounds.
What are the benefits of a full-spectrum CBD product?
Full-spectrum CBD products are called the entourage effect. Since all of the naturally occurring compounds from the cannabis plant were not stripped away during processing by the CBD manufacturer, they can enhance each other. This effect amplifies the therapeutic properties of each compound. For this reason, full-spectrum CBD products are considered more effective than CBD isolates or broad-spectrum CBD products. Research has shown that full-spectrum CBD products can help treat inflammation, muscle soreness, joint pain, and recovery.
Will a full spectrum CBD product get me high?
These products are nonpsychoactive. During the extraction process, the CBD manufacturer leaves only 0.3% THC, which is under the legal limit. The low concentration of TCH makes the risk of intoxication almost zero. However, because a trace amount of THC is present, false positives during a drug test are possible.
Where do I find a quality, full-spectrum product?
Locate a CBD manufacturer, like Sawyer Labs, that creates, develops, and formulates CBD products on-site to ensure quality. Remember: Not all CBD products are created equal. CBD products should come with a Certificate of Analysis to ensure quality and purity.