What does "isolate" CBD Products Mean?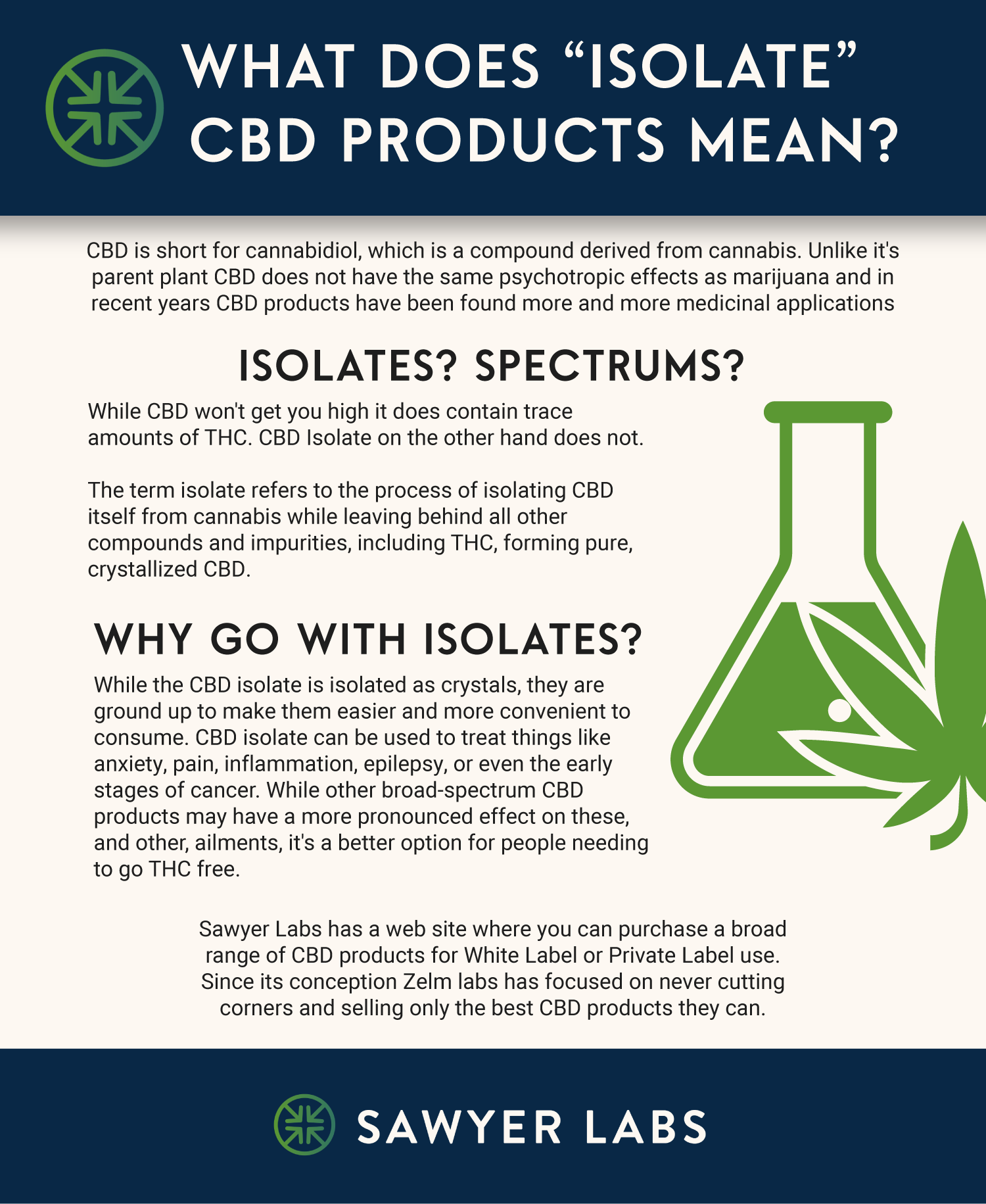 CBD is short for cannabidiol, which is a compound derived from cannabis. Unlike its parent plant, CBD does not have the same psychotropic effects as marijuana, and in recent years CBD products have been found more and more medicinal applications ranging from seizures to arthritis. If you're a CBD retailer, Sawyer labs is an incredible CBD manufacturer that offers isolate, broad-spectrum, and full-spectrum products.
Isolate CBD Explained
CBD works on your brain's cannabinoid receptors. These receptors exist because your body produces its cannabinoids. While CBD won't get you high, it does contain trace amounts of THC. CBD Isolate, on the other hand, does not. The term isolate refers to the process of isolating CBD itself from cannabis. All this while leaving behind all other compounds and impurities. This includes THC, forming pure, crystallized CBD. So you can take CBD to isolate without having to worry about the THC if that's something you're concerned about.
Isolate CBD Benefits
While the CBD isolate is isolated as crystals, they are ground up to make them more accessible and more convenient to consume. CBD can be used to treat things like anxiety, pain, inflammation, epilepsy, or even the early stages of cancer. While other broad-spectrum CBD products may have a more pronounced effect on these and other ailments, it's a better option for people to go THC free for their job, medical purposes, etc. CBD isolate may also help give your immune system a boost, memory, sleep, appetite, and pain.
To Wrap Up
Sawyer Labs has a website where you can purchase a broad range of CBD products for resale. Since its conception, Sawyer labs have focused on never cutting corners and selling only the best CBD products. Along with offering CBD products, they also provide quite a bit of information on CBD with their elaborate FAQ page and blogs. So, if you're in the market for a CBD manufacturer, Sawyer Labs is a great choice.