What is CBD Commonly Used For?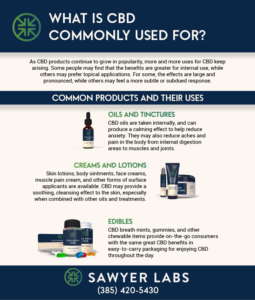 As CBD products continue to grow in popularity, more and more CBD products enter the market. Some people may find that the benefits are greater for internal, general use, while others may prefer topical applications that target specific areas. Oils, creams, lotions, gummies, even CBD breath mints are all fantastic options. For some, the effects are large and pronounced, while others may feel a more subtle or subdued response.
Common Uses for CBD
The CBD market is exploding, and more uses and applications seem to be added daily. Here are a few of the common ways that people may enjoy CBD products:
Oils and Tinctures
One of the most prominent uses for CBD is in an oil-based product. When these oils are ingested, many users report that they achieve a peaceful, tranquilizing effect, reducing anxiety and bringing a calming sensation to the user. The oils also may reduce aches and pain in the body, in everything from internal digestion areas to muscles and joints.
Creams and Lotions
A wide variety of skin lotions, ointments, face creams, muscle pain cream, and other forms of surface applicants are readily available in the CBD marketplace. As a lotion, CBD may provide a soothing, softening effect to the skin, especially when combined with other oils and treatments. The skincare industry is huge, and CBD products are beginning to dominate the market with their many additional benefits.
Edibles
CBD breath mints, gummies, and other chewable items provide consumers with easy-to-carry options for enjoying CBD throughout their day. These options carry the same great CBD benefits and can easily fit into a pocket for on-the-go users.
CBD Breath Mints and Other Products
Smart retailers are always looking for opportunities, and Sawyer Labs can help. Partner your retail business with us to put our quality, professional products on your shelves with your brand on the label. Give us a call today for more information.