What is CBD Private Labeling?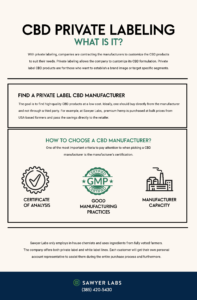 The meteoric rise in CBD popularity has caused an upsurge of manufacturers and retailers with varying product promises.
However, like all health products and supplements, manufacturing, formulation, and labeling are difficult and expensive. This is why many businesses are looking for a private label CBD manufacturer.
CBD private labeling involves manufacturing products by one company for sale under another company's brand name. The business gets products from a third-party but under its label.
With stringent laws surrounding CBD manufacturing, you need to partner with a certified private label CBD manufacturer. Only certified companies have trackable, verifiable, and accountable systems for private labeling.
For these CBD private labeling services, get the perfect place, partner, and solution with Sawyer Labs. If you have a custom CBD formula, private label is the ideal route for you!
We are Good Manufacturing Practice (GMP) certified the highest standard a manufacturing company can achieve, increasing our reliability and trust.
Why you need Sawyer Labs as your private label CBD manufacturer
Research indicates about 70 percent of CBD products online are mislabeled. Sawyer Labs includes a COA with each order verifying the product's potency, so you know exactly what's in your product. With hundreds of CBD products in the market, we help businesses launch their brands through our state-of-the-heart private labeling services.
We have vast manufacturing and research experience and understand how to develop world-class designs.
We will help you with product design packaging that comes with easy-to-use templates for your customer's needs. And when working with us, you get to purchase directly from the manufacturer making direct business-to-business purchases possible. When you partner with us, a specific account rep is assigned to your company handling every order from the beginning to the end.
With this setup, our private labeling design offers unmatched services in the industry. Contact us today at SawyerLabs.com.