What Is the Difference between Broad and Full Spectrum CBD?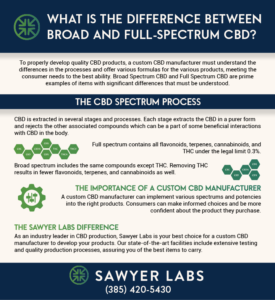 As consumers proceed to discover the many benefits of CBD, the industry continues to blossom. To properly develop quality CBD products, CBD manufacturer must understand the differences in the processes and offer various formulas for the various products, meeting the consumer needs to the best ability. Custom CBD manufacturing can help provide great products according to retailer needs. Broad Spectrum CBD and Full Spectrum CBD are prime examples of items with significant differences that must be understood.
The CBD Spectrum Processes
When the plant is harvested and processed, the CBD is extracted in several stages and processes according to the desired end result. Each stage extracts the CBD in a purer form and rejects the other associated compounds, such as terpenes, which can be a part of some beneficial interactions with CBD in the body. Full spectrum contains all the flavonoids, terpenes, and compounds from the hemp plant. Full spectrum CBD also stays under the legal limit of 0.3% THC. In contrast, broad spectrum includes all the same components minus THC. Each of these types of products has its advantages, and consumers can choose whichever they desire.
Importance of a Custom CBD Manufacturing
In the development of consumer CBD products, it is necessary for custom CBD manufacturing to implement the various potencies and variants into the products and provide a certificate of analysis for each. By consulting the specs on each product, the consumer can make informed choices about the product they purchase and be better satisfied with their selections.
Sawyer Labs Difference
As an industry leader in CBD production, Sawyer Labs is your best choice for custom CBD manufacturing to develop and label your products. Our state-of-the-art facilities include extensive testing and quality production processes, assuring you of the best items to carry. Give us a call and see how we can help propel your brand into the CBD marketplace.