Why Your Client Will Love CBD Gummies!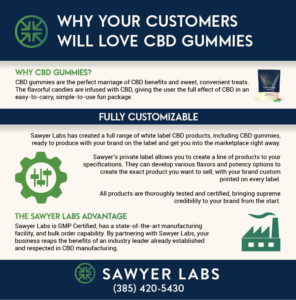 As CBD products' popularity continues to soar, consumers are discovering the benefits of using CBD and the convenience of many types of CBD products. While tinctures and creams are extremely popular, many people also turn to easy-to-use items like CBD gummies for convenient, handy daily use. A custom CBD manufacturer, like Sawyer Labs, can develop various flavors and potency options to create the exact product you want to sell, with your brand custom printed on every label.
How Does It Work?
CBD gummies are the perfect marriage of CBD benefits and sweet, convenient treats. The flavorful candies are infused with CBD, giving the user the full effect of CBD in an easy-to-carry package. As a retailer, you can have your custom CBD manufacturer create a line of products to your specifications, setting apart your brand as unique in the marketplace.
What Is Customization?
Sawyer Labs has a research and development team that produces a full range of white label CBD products, including CBD gummies, ready to produce with your brand on the label and get you into the marketplace right away. If you prefer a customized product, our lab teams can create specialized formulations, through our private label, based on your exact specifications and requirements. All products are thoroughly tested and certified, bringing supreme credibility to your brand from the start.
The Sawyer Labs Advantage
As a custom CBD manufacturer, Sawyer Labs has a professional research and development team, a state-of-the-art manufacturing facility, bulk order capability, and long term experience in the CBD marketplace. By partnering with Sawyer Labs, your business reaps the benefits of an industry leader already established and respected in CBD manufacturing. Sawyer Labs is GMP certified, meaning every product developed is traceable, verifiable, and accountable. Contact us today and see how we can help your business blossom in the fast-growing CBD industry.