Why Your Clients will Love CBD Eye Cream!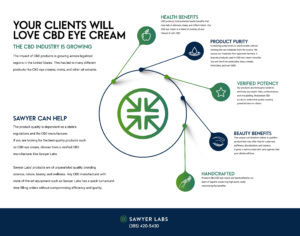 The impact of CBD products is growing across the United States. This has led to many different products like CBD eye cream, mints, oils, and other products. But the quality of the product is dependent on the CBD manufacturer.
If you are looking for the best quality products such as CBD eye cream, choose from a verified CBD manufacturer like Sawyer Labs.
Sawyer Labs' products are of unparalleled quality, blending science, nature, beauty, and wellness. CBD manufacturer, Sawyer Labs, has state-of-the-art equipment for quick turnaround time filling orders without compromising efficiency and quality.
Products like CBD eye cream are handcrafted by our team of experts sustaining high purity levels maximizing the benefits.
Besides these attributes, here is why your clients will love the CBD eye cream from Sawyer Labs.
Health Benefits
CBD products hold potential health benefits that may help in skincare, sleep, and inflammation. Our CBD eye cream, for instance, exhibits these benefits from its unique production. The cream is a blend of rosehip oil and Vitamin E with CBD.
This unique combination makes it a perfect product that may offer help for under-eye puffiness, discoloration, and redness.
It gives a well-rounded skin care regimen that your clients will love.
Product Purity
Sustaining purity levels is unachievable without tracking the raw materials from the source. We source our materials from approved farmers. It ensures products used in CBD eye cream manufacture are free from pesticides, heavy metals, herbicides, and non-GMO.
When your clients know they have original products, they keep coming for more.
Verified Potency
A reliable CBD manufacturer must make sure their products are third-party tested for potency verification. Here at Sawyer Labs, we always receive third-party testing to give you the best.
This potency requirement helps us eliminate any health risks, contamination, and mislabeling. Mislabeled CBD products undermine quality causing potential harm to clients.
Order your CBD products today from CBD manufacturer Sawyer Labs.