Why Your Clients Will Love CBD Muscle Pain Cream!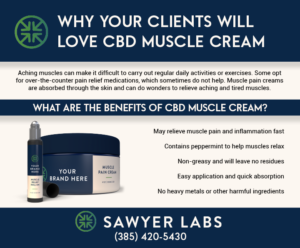 Muscles can start aching after they do tedious work. If left unattended, the aching muscles can make them not carry out their daily activities or exercises normally. Some of these people opt for over-the-counter pain relief medications, which sometimes do not help. Muscle pain cream from a reliable CBD manufacturer can do wonders to these people if applied to the affected area. They are absorbed through the skin and relieve the aching and tired muscles. However, people should not use them on injured skin, eyes, mouth, or very young children's skins.
Many types of muscle pain creams are on the market nowadays, with CBD muscle pain cream being one. At Sawyer Labs, we make this type of muscle pain cream using high-quality CBD and fresh peppermint. Here's why your customers will love it!
CBD Muscle Pain Cream From the Best CBD Manufacturer
CBD muscle pain cream has the potential to relieve muscle pain and inflammation fast. 
On top of the CBD, the peppermint in it is said to help tired and aching muscles relax.
CBD muscle pain cream is thick and non-greasy. This leaves one's skin soft and supple with no residues on it. Also, it is easily absorbed into one's skin, and hence a lot of rubbing is not needed during its application.
Heavy metals can affect one's body or skin negatively. CBD muscle pain creams made by a good CBD Manufacturer do not contain these metals or other harmful ingredients. Therefore, they do not cause any harm to the applied area.
CBD muscle pain cream from a good CBD Manufacturer is a fantastic option for people with aching and tired muscles. It relieves pain and any inflammation in the affected area. It is also easily absorbed into the skin and does not leave any residues after its application. Order from SawyerLabs.com today!