Why Your Clients Will Love CBD Pet Treats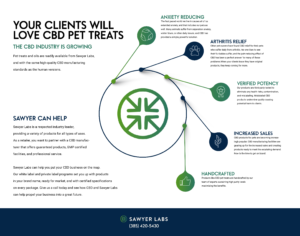 As CBD products continue to gain popularity across all segments of society and in every cultural group, it's no surprise that the benefits of CBD also reach out to man's best friend. Pet treats and oils are readily available from Sawyer Labs and with high-quality CBD manufacturing standards.
CBD For Pets
The fast-paced world we live in causes all of us plenty of anxiety, and that includes our pets as well. Many animals suffer from separation anxiety, winter blues, or other daily issues, and CBD has provided a simple, powerful solution. Other pet owners have found CBD relief for their pets who suffer daily from arthritis. No one likes to see their pets suffer, and the pain-reducing effect of CBD has been a perfect answer for many of these problems.
The Marketplace
CBD products for pets are becoming increasingly popular. Retailers of all types are seeing the possibilities and looking into claiming their part of the CBD boom. CBD manufacturing facilities are gearing up for the increased sales and creating products ready to meet the escalating demand. As the market continues to grow, now is the time to get on board.
The Sawyer Labs CBD Manufacturing Difference
Choosing a quality CBD manufacturing source is important. Sawyer Labs is a respected industry leader, providing a variety of products for all types of uses. As a retailer, you want to partner with a CBD manufacturer that offers guaranteed products, GMP certified facilities, and professional service. Sawyer Labs can help you put your CBD business on the map. Our white label and private label programs set you up with products in your brand name, ready for market, and with certified specifications on every package. Give us a call today and see how CBD and Sawyer Labs can help propel your business into a great future.