Why Your Clients will Love Vegan Face Oil!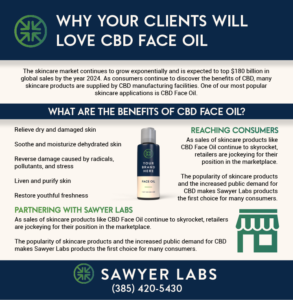 Everyone loves clean, healthy skin. The fact is, the skincare market continues to grow exponentially and is expected to top $180 billion in global sales by the year 2024. As consumers continue to discover the benefits of CBD, more and more of those skincare products are supplied by CBD manufacturing facilities. One of the most popular skincare products is vegan face oil.
Benefits of Vegan Face Oil
Treating dry, damaged skin can be a challenge. With vegan face oil, just a few drops may make a fantastic change and bring instant relief. Dehydrated skin will be soothed and moisturized, plus the benefits of CBD may reverse the damage caused by radicals, pollutants, and stress. Regular applications can liven and purify the skin and restore a youthful freshness to the face.
Reaching the Consumers
CBD manufacturing companies such as Sawyer Labs are gearing up for the future. As sales of skincare products like vegan face oil continue to skyrocket, retailers are jockeying for their position in the marketplace. The popularity of skincare products combined with the increased public demand for CBD makes the Sawyer Labs line of products the first choice for many consumers.
Partnering With Sawyer Labs
We at Sawyer Labs believe that in the world of CBD, the future is wide open. As a leading CBD manufacturing facility, we are dedicated to producing high-quality, certified CBD products with the best white label and private label programs in the industry. When you choose Sawyer Labs as your CBD manufacturing partner, your customers enjoy the best products in the marketplace and will keep coming back for more. That's good for them, and it's good for you. But the market will fill up fast, so establish your business now and get your name out there. Give us a call or fill out our online form and tap into the exciting world of CBD today.